We work with all types of masonry - Stone, Brick, Concrete, Exposed Aggregate, and Paver Systems.
We have provided these services throughout Fairfax County since 1991.
Call us for your next project - Driveways, Patios, Sidewalks, Retaining Walls, Porches, Stoops, Steps, Waterproofing, Foundations, Underpinning, and much, much more!
We also do commercial projects.
Request an estimate
and save $200...
Find out what it will cost to make your ideas come to life. No obligation.
$200 off on any job over $3000. Not valid with any other special offers.
Stone Paving
There's nothing like the elegance of stone paving to help a property stand out. M.Y. Construction takes pride in our craft and are proud to offer a wide selection of stone paving options.
From cobblestones to interlocking stones and everything in between, we can help make your property distinctive and increase its value at the same time.
Retaining Walls
Does your outdoor space need some additional structural support? Are you looking to add aesthetic appeal to your property's exterior? We offer decorative and functional retaining walls in a wide variety of styles and forms. No matter the setup or layout of your property, we'll be happy to build retaining walls to best meet your needs.
Patio Paving
Turn your backyard into a beautiful and versatile outdoor living space. Bring the elegance and functionality of an indoor living space to your backyard with a beautifully paved patio. A quality patio can transform any outdoor space and give the exterior of your home a fresh, new look.
Waterproofing
Is your home at risk due to flo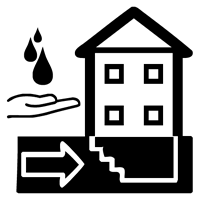 oding or leaks? Water damage can have a long-lasting negative impact on your property. We can help you protect your home with offer reliable, cost-effective home waterproofing solutions.
Water damage does more than just impact your property from an aesthetic perspective. In some cases it can also cause serious structural damage. Another risk is the buildup of mold inside your home. This can result in serious health problems down the line. Our goal is to help you avoid the problems associated with water damage by providing thorough waterproofing services.
General Concrete Services
Our crews have supplied concrete services throughout Fairfax Virginia since 1991. We understand the importance of providing strong, durable concrete for every project on your to-do list. Our dedication to quality and customer service is an important part of who we are.
Concrete Driveway Paving
Concrete is so versatile, durable, and easy to maintain. So it's a natural choice for residential and commercial driveways.
From the first glance at your property's exterior, a quality concrete driveway suggests quality construction throughout your property.
Stone Landscaping
You work hard to maintain your home's landscape and you want to show it off. But is something missing that's preventing you from being proud of it? If you're not satisfied with the current appearance of your landscape, stone may be the perfect solution for you.
Hardscaping
So you've invested in flowers and shrubbery to enhance your outdoor space. But now you need to update your surrounding areas and structure for a complete look that lets your property stand out. M.Y. Construction offers hardscaping services designed to improve the aesthetic appeal of your property's exterior.
Brick Pavers - for patios, walkways, driveways
Brick paving can transform a simple landscape into an elegant and functional outdoor living area. Our expert craftsmen specialize in adding beauty and functionality to any backyard through artfully paved surfaces. Your new brick patio or walkway will add usability, style, and a whole new world of backyard entertaining possibilities.
Concrete Foundations & Footings
Starting a new construction project? Your foundation plays a critically important role in the process. We will build a strong, durable concrete foundation. We have the tools and skills to provide reliable concrete foundation laying services for both home and commercial structures. No matter the scope of your project, we'll help you get it started on the right foot.
Foundation Repair
M.Y. Construction can meet your foundation repair needs quickly and easily. We'll go over your plans to ensure they meet local zoning laws and building codes for your safety and security. We handle the elements that make your project a success -- and we'll keep you in the loop every step of the way.